Involved in Events!
Hey!
It's been a busy month full of capoeira this past November. I attended two great capoeira events here in LA!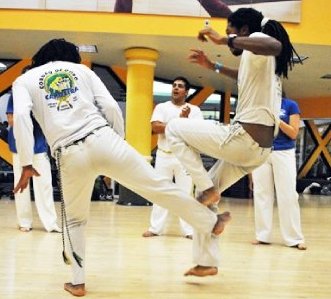 The first was Festival Sem Dendè Não Vou Jogarhosted by Cordão de Ouro Los Angeles, the group I currently train with. It was a 3-day event with many great workshops, rodas and guests. On the Saturday of the event, I was training in workshops and playing in rodas for a good 8 hours. Not only did I learn a lot, I met a lot of great capoeiristas at it!
The second event was Zumbi Day, an event held by Mestre Amen of Capoiera Batuque. Some friends and I attended and enjoyed some amazing maculele, afro-dance, samba and capoeira workshops. After, we relaxed in a 3 and a half hour roda! Needless to say it was extremely fun and tiring.
Events are great for really putting all of the training we do in the academy into perspective. They put our skills to the test and allow us to get a fuller picture of the capoeira community at large.
Keep an eye out for events near you and be sure to go!